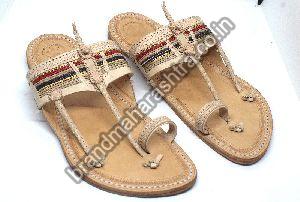 There is very few traditional Indian footwear for men that stand out like Men's Kolhapuri chappals. It is a shoe design that is not only popular in fashion runway shows all around the world but is also highly in demand among the common men. Men can pair Kolhapuri chappals with traditional attires and with indo –western outfits to make a great fashion statement. There are varieties of Men's Kolhapuri Chappal Manufacturer Maharashtra who offer a high-quality product at budget-friendly prices to their customers. Listed below are a few reasons why Mens Kolhapuri chappals are much- sort after footwear among men.
Unique Design
Kolhapuri chappals are handcrafted leather footwear that has a unique style with open toed t-strap. They are a great reflection of Indian footwear, and every pair is different from another with its natural defect. Kolhapuri chappals do not use nails but stitching allowing a variety of designs to choose from. If you are someone looking to stand out from the crowd during festivities, then Kolhapuri chappals are a great option as footwear with your desired outfit of choice.
Variety Of Design And Color
You can find an array of Kolhapuri chappals design and pattern in the market space, however, the original Kolhapuri chappals are made with a combination of gold and silver color. You can also find this traditional footwear in tons of colors that you can pair with multiple outfits for any occasion. You can browse online to find great design and color of Mens Kolhapuri chappals.
Durable And Pocket Friendly
The best feature of Kolhapuri chappals is that these footwear are very durable and pocket friendly. You can easily find varieties of Kolhapuri chappals in various designs, colors, and patterns online and in nearby stores at a customer-friendly price. Since Kolhapuri chappals are handcrafted and stitched by artisans they can endurance different weather conditions easily making them very durable. Mens Kolhapuri chappals can last very long if cared for and maintained properly.
Comfortable To Wear
There is no use in buying beautiful footwear if you are uncomfortable wearing it. Kolhapuri chappals are very comfortable to wear and can be worn anywhere and anytime from extreme heat o to mountainous terrain. The comfort of the Kolhapuri chappal and its unique design has made Kolhapuri chappals much loved footwear amongst Indian men.
Stylish
Kolhapuri chappals look very stylish if paired correctly with traditional or indo western outfits. The design and stitching of the Kolhapuri chappals provide for a royal and rich look and can help you elevate your outfits to the next level. You can also become creative by pairing Kolhapuri chappals with jeans or t-shirt to stand out from other men in the room.
Men from different age groups can adorn these exquisite Kolhapuri chappals with their outfits. Kolhapuri chappals can also be worn daily if your workplace does not require formal footwear for office hours. Choose an authentic Mens Kolhapuri chappal supplier or manufacture to get a high-quality product at the best price. Several Kolhapuri chappals manufacturers also offer the bulk quantity of products at budgeted prices to their customers.