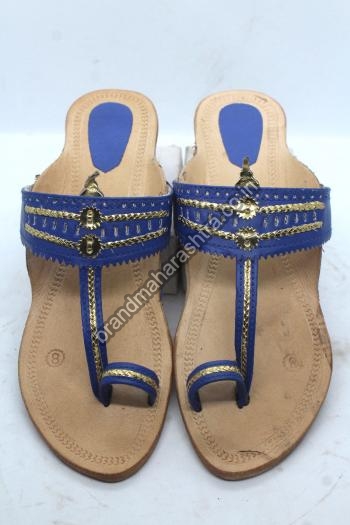 Kolhapur chappals represent potentially Indian footwear culture. If you wish to wear handmade, stylish as well as comfortable footwear, you will get all the benefits in the Kolhapuri chappal. They are made up of leather and vegetable colours are used. Open-toed Kolhapuri chappals offer you comfort and style. You can easily wear it for daily rough use and for office. On the other hand, you can decorate your foot with Kolhapuri chappals on the eve of festivals or ceremonies. These amazing chappals were invented in the 13th century and are maintaining their glamour still now.
History of Kolhapuri Chappals
The Kolhapuri chappals date back to the 13th century and were initially found in the kohlapur town of Maharashtra. The Saudagar family of Kohlapur town first designed these amazing pieces. The traditional Kolhapuri chappals are of veg-tanned leather colour. Brown and grey are their original colours. But now the Kolhapuri chappals come in variety of colours- pink, green, blue, yellow, red etc. There were intricate thread designs all over the chappals and a bright red coloured fur ball was attached at the centre. The designs of these chappals have undergone changes over time.
Making Of Kolhapuri Chappals
The Kolhapuri chappals are made up of wild ox and string, which have a very thick sole. Therefore, these chappals weigh approx 2 kg. Kolhapuri chappals making time duration is 6 weeks.
The steps of making Kolhapuri chappals are-
• Skiving
• Cutting
• Connecting upper and bottom sole
• Sewing
• Polishing
• Decoration
Why Do You Need Kolhapuri Chappals?
Made Up Of Leather
These chappals are entirely made up of leather. It offers a classy look as well as durability. Initially, buffalo hides were used to design the chappals. Nowadays, these chappals use soft leather, which makes them comfortable and wearable.
Versatile
Kolhapuri chappals offer a variety of styling opportunities. As it goes hand in hand with the traditional dresses, the Kolhapuri chappals also suit the Indo-western outfit. The ladies- Kolhapuri chappals best suit with the jeans as well as the salwar suit. .Celebrity Favourite
The Kolhapuri chappals are the choices of many celebrities. Virat Kohli, Deepika Padukone, Ranbir Singh were noticed to wear Kolhapuri chappals with their different outfits. Celebrities choose the chappals for their versatile nature. Other celebrities, who were spotted wearing Kolhapuri chappals with their ethnic outfit, were Alia Bhatt, Kareena Kapoor, Sonakshi Sinha, Shraddha Kapoor, Sonali Bendre.
Main Features Of Kolhapuri Chappals
• Handmade chappals dyed with vegetable dyes
• An open-toed and T-strap sandal
• Produced through various mechanical and chemical processes.
• Maintains the balance of temperature of the body by absorbing heat from the body
• Durable
• Lowers the hair fall issue
• Boosts blood circulation
• Prevents you from blood clotting problem
Conclusion
We are one of the best Ladies Kolhapuri Chappal Suppliers Maharashtra. Our products are of high quality and you will get them at a reasonable price. The Kolhapuri chappals not only are traditional footwear but also present them as modern footwear. You can wear it with ethnic wear as well as an Indo-western outfit.